We have visited Zihuatanejo, Mexico before and the cooking classes have become a popular activity in town.  However, if you wait until you arrive, they are usually booked up.  So with doing a bit of research, I booked one in advance.   There is one that is a personal home, hands-on, cooking class, and although it has great reviews, you have to have a small group and since it was just my youngest son (my little chef who is now 10), and myself, we wanted something a little more organized.  So I found Patio Mexica that was just on the other side of town.  Walkable or by taxi in 10 minutes.  Close to Playa la Ropa.
The food really is amazing in Zihua.  That the one thing my kids remember about the last trip was how good the food was everywhere we ate down there so it was cool to find out what they do that's so special.
Patio Mexica – Cooking School / cafe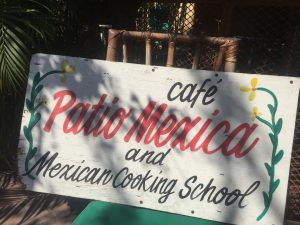 3 hours, $400 pesos/adult and ONLY pesos are accepted. Class 10am – 1pm.
Made my reservation a week early via her Facebook page… a Facebook Message to Monica. She fills up fast, so plan in advance.
Although it is stated as a cooking school, one must not expect to be doing the cooking. She usually has a full class of 16 people and it was more of an educational food experience and presentation.  We still very much enjoyed it.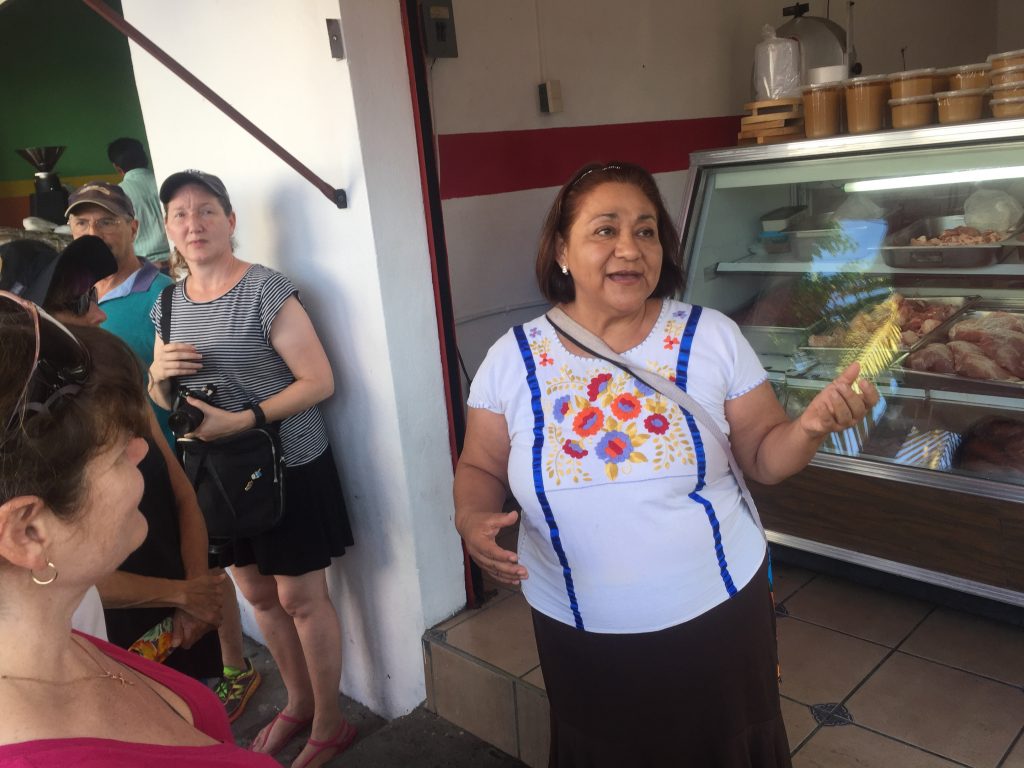 Monica speaks very good English and her two sons help her throughout. They too both speak English (Juan and Carlos).
She starts the class in her red tented/tabled area in the backyard and explains the day.
We then had an extensive tour through the marketplace with stops along the way to see, smell and taste various things. She purchased the fresh fish that we would be using for our lunch in the Mercado as well.
We made our way back to the Patio Mexica thru the streets of downtown Zihua, with a few more stops along the way to show us Pinata making and special cheeses. She then set us up for the cooking portion. She has a very nice cooking table with an overhead mirror set up so you can watch her cook from both angles (directly at her or looking down).  She preps the marinade for the fish tacos and then prepares that dish and sets it aside.  She then hands us all a knife and cutting sheet to help her cut up the fish for the other dishes (we did ceviche and fajita). That is the only hands-on part we did.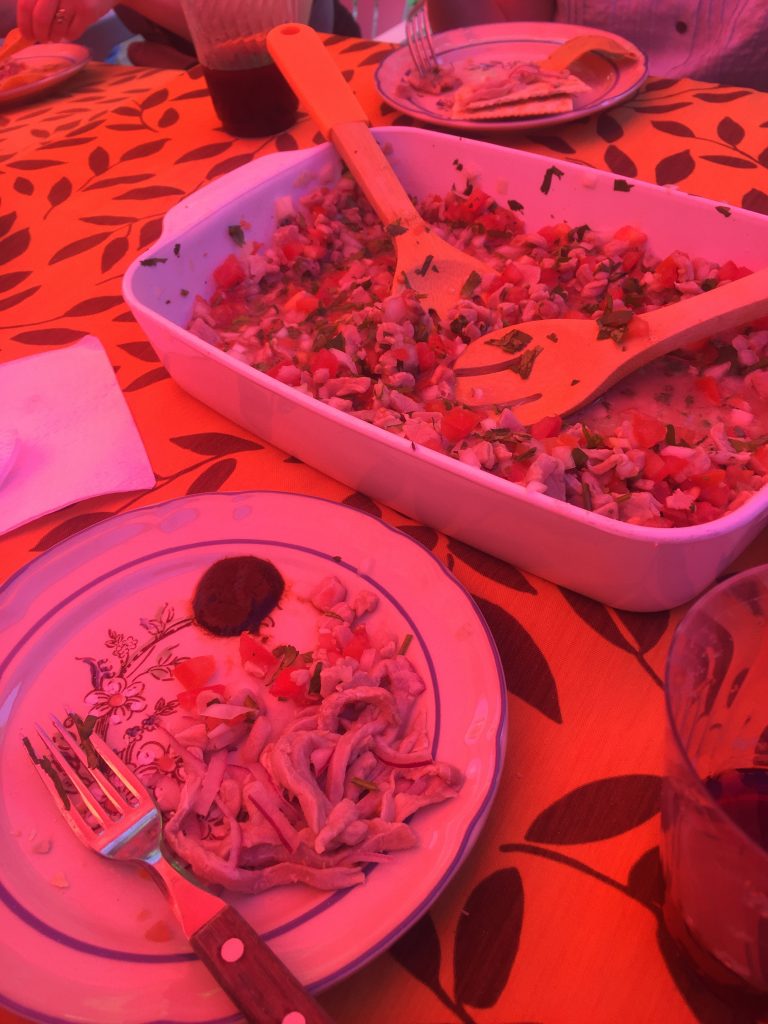 Otherwise, we watched as she and her son mixed the dishes together.  Plates were handed out and the dishes were passed around for eating with saltines and chips. A fresh Hibiscus drink was definitely necessary if you hit a chile like I did.   While we are eating she starts pan frying the marinated fish that will be made into fish tacos. There is plenty of food to go around and the hospitality of the family is very gracious.  After all the food has been dispersed and there is time to talk to Monica and the family and pay your bill.
It was an enjoyable experience for my son and I. The food was traditional and the experience very educational.  The trick of the flavors is just the freshness of the food and love going into the preparation.  That was her explanation.  🙂
While we were taking our cooking class… my hubby and older son were visiting Playa la Ropa and other parts of town.  The tell me there are $30/ tent massages but I didn't have the opportunity this time around.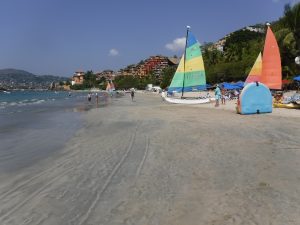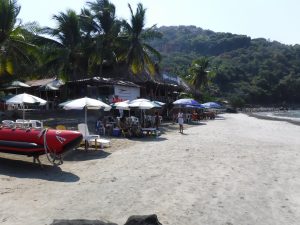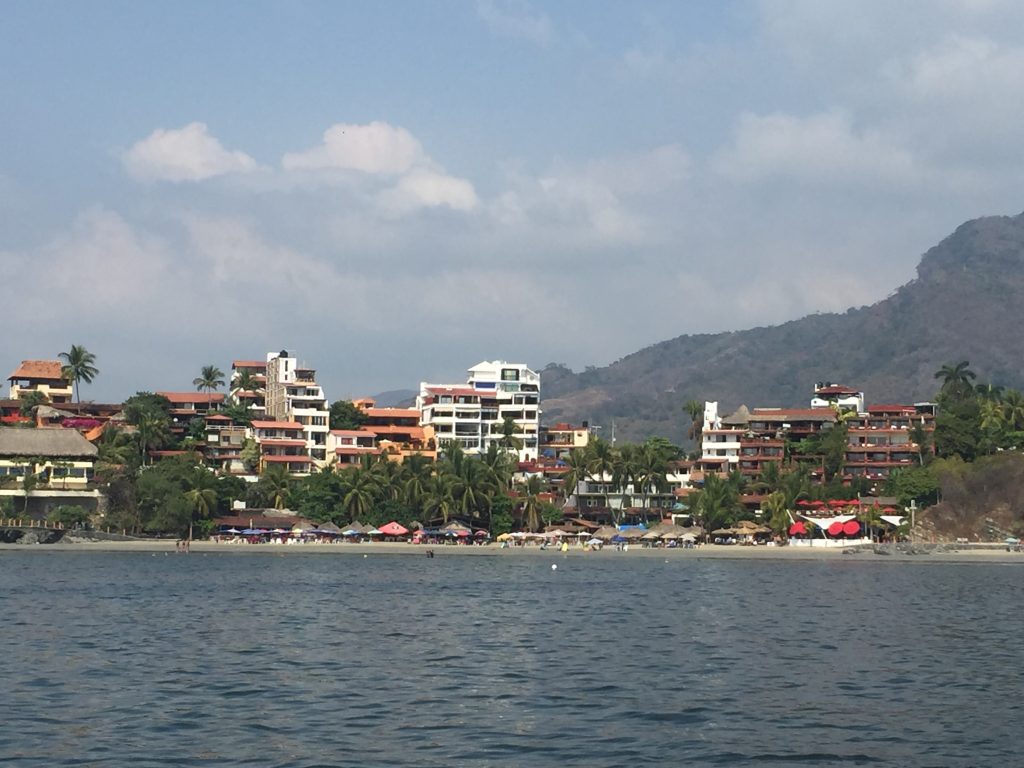 That afternoon we were back at the hotel relaxing, hanging by the pool and went for an adventure at the Puerto Mio coastline below our hotel.   There were tidepools, fish and we even saw a spotted manta ray.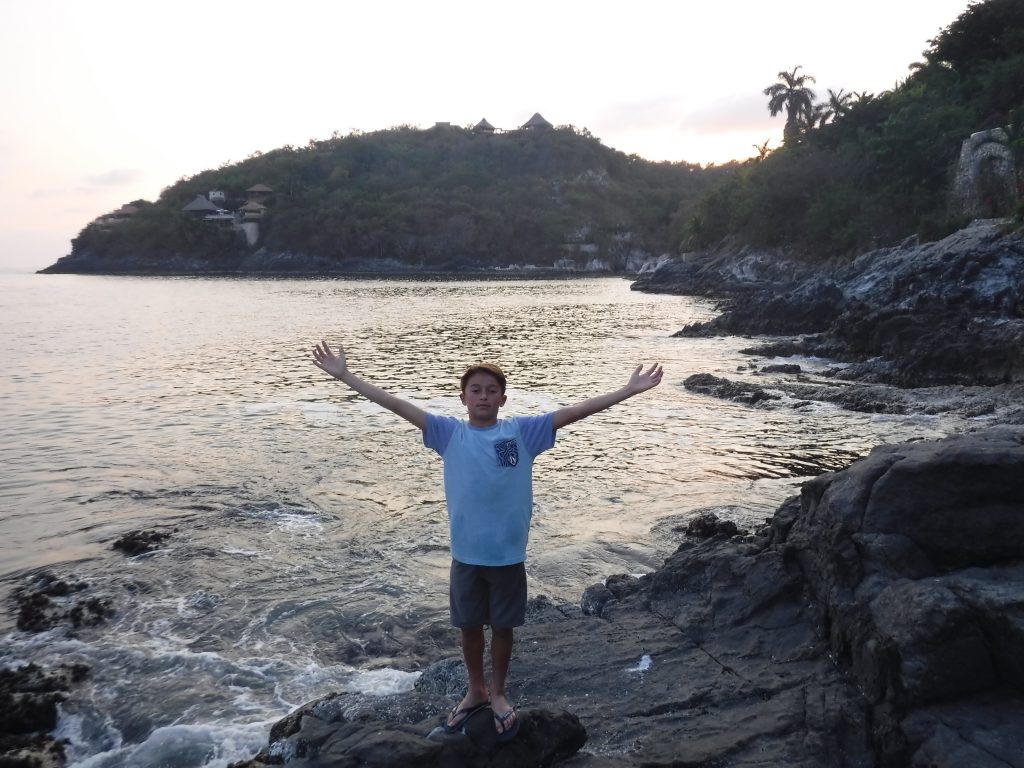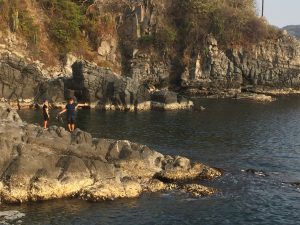 See other blog posts for the rest of our Family Trip to Zihua, including the Cultural/City Tour, and Catamaran Snorkel Trip.
If interested in traveling to Zihua, visit my Travel page and send me an inquiry.  I'd love to help you book your adventure.