Yes….it actually can be done.  Tahiti is one of those places people dream of going and staying at overwater bungalows and swimming in the crystal clear lagoons.  However, there are ways of seeing these amazing islands for less…but it's still one of the more expensive places to go in the world (Fiji is much more budget-friendly).  Although we went many years ago, these suggestions still apply.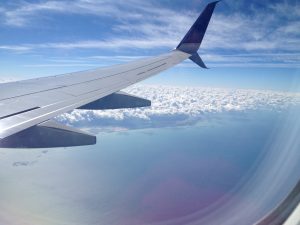 Use Discount airfare suppliers

that specialize in multi-stop travel. (AirTreks is our favorite). They get discounts that they share with you.  We had a great experience with this company especially since we were able to change the dates of certain legs of our travel after we arrived. We did a 6-month trip around the South Pacific and Tahiti was our first stop from LAX.  So flights can be pricey direct to Tahiti.  Keep an eye out on Travelzoo or other travel sites that will send you notifications on prices.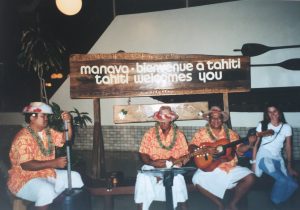 Papette is where you will arrive on the main island of Tahiti Nui.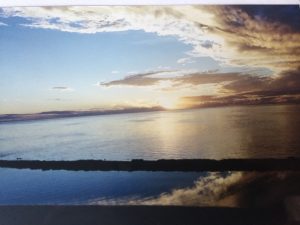 The main island is where most of the locals live as it's the largest island and has many hotels but this is not where all the famous pictures come from.  Although it is beautiful.     2.  Your money will now be French Francs so you may want to get some local currency, but try to put as much as you can on credit cards as you get the best exchange rate usually.  After arriving, depending on when you arrive you may want to stay a night on this island but getting to the smaller islands is the goal for a real picture book Tahitian vacation.
3.  Travel via ferry to other islands instead of flying.  Sometimes flights are inexpensive between islands but booking your ferry ticket either in advance or as soon as you arrive in Papette to the next island is necessary.  Check into a multi-island pass.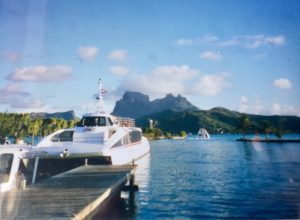 4.  Enjoy accommodations in nature…yes there is Camping in Tahiti and it's amazing.   Moorea was our first ferry stop and personally my favorite.  We did not do the overwater bungalows on this trip…we saw them on a few of the islands, but remember…this was a budget trip (I mean we had just gotten married).  Believe it or not…. we CAMPED on the island.  We had planned in advance and traveled via backpacks, with lightweight sleeping backs and a small 2 person tent.  But it was the best camping ever!!! Talk about an amazing beach view when we woke up.  We stayed at Chez Nelson.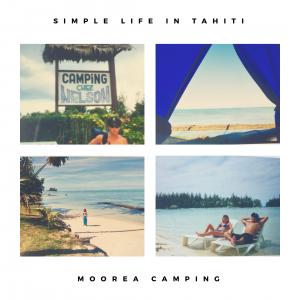 We even popped into the next door resort via the beach for a dip in their pool and borrow their beach chairs.
5.  The islands are mostly flat and so we rented bikes to get around the islands.
6.  Locally owned B&Bs or rooms for rent are a good way to stay in a nice place without going broke.   We took a ferry to Bora Bora where we stayed in this darling budget B&B (Madame Roselle's) owned by a local artist.  It was so colorful and inviting and the typical breakfast was cafe and pastries.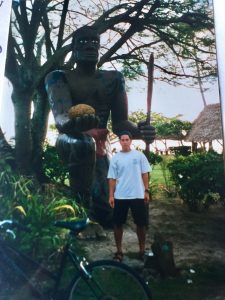 7.  Tours recommended by locals and booked directly save us a little since they didn't have to pay a commission to the resort.  We enjoyed going out on the local Shark Tours that had a small catamaran, provided snorkel gear and we really swam…with yes…sharks.  Then we returned to the lagoon and swam with the rays.  They top the experience off with a locals feast. Fresh seafood and fruits.  So cool.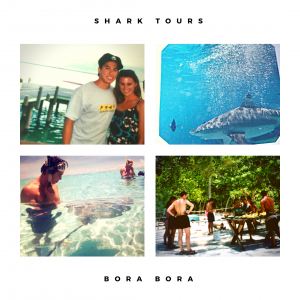 8.  Visit less popular islands will save some money as well.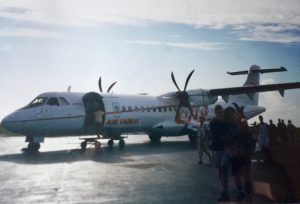 We left Bora Bora and took a small aircraft to Huahine because my husband heard there were good waves there and was determined to surf…so we went and he did.  We saw Teahupoo for the mega waves but there were none to be had.  There were several small resorts that were inexpensive on this island.  The island isn't as touristy developed as the well known Bora Bora and Moorea, but very charming and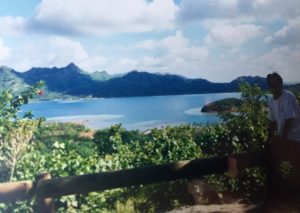 quaint and not crowded and had the waves he was looking for.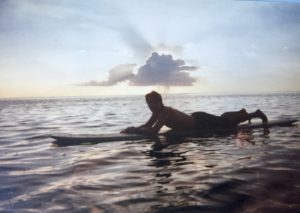 9.  Boutique hotels out of town seemed to be less pricey than the names you would recognize and that cater to budget travelers.  So the rooms are not as fancy but the staff are totally friendly and are still clean and accommodating.  When we returned to the main island before flying home, we stayed at a budget hotel that was perfect for us in Tahiti Nui. Our hotel had great little boats to take out and made for the full experience.
10.  Public Transportation is available on the main island but is more scarce on the other islands as that is a means of income for many locals.  And if it is, it's not very frequent.  So remember you're on vacation and not to get stressed out.  However, we rented a car for this larger island since we wanted to see it all and again my hubby wanted to try to surf on the other side of the island.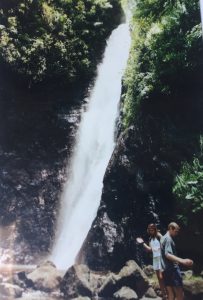 11.  Walking/Hiking is always a good form of exercise, a great way to see the sights and always free.  Papette has a great locals marketplace that is worth visiting.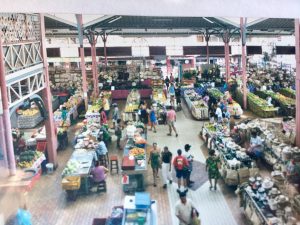 We also found some great hiking trails and beautiful waterfalls along the trails.
12. Making friends with the locals is always beneficial.  Remember this is their home and you're the visitor and to take the time to ask them about their life, their jobs, their culture can complementing to them since they are so used to being in the tourism industry and just servicing the rich visitors.  Once you've befriended them… they give the best advice and referrals.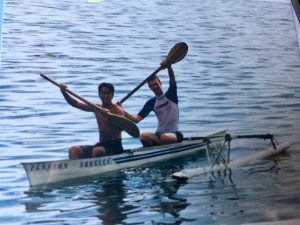 13. Making international friends …Tahiti is known for their amazing resorts…and we saw plenty of them but we had an adventurous time doing it budget style.  We met some amazing travelers from New Zealand, Wales, and Switzerland that we are still to this day in touch with. They shared their experiences on the island and gave us their tips as well as invited us to visit them back at home.  Travelers keep in touch sometimes more than family… it's a connection that we all have.
Now that I'm all grown up… I do want to go back to Tahiti and do the overwater bungalows… without the kids…it's a bucket list thing, but Tahiti on a dime was fine too.  Truly a great trip.