GOAL!!! (Jumping up and down) Swing-batter-batter-Swing! (Intensely sitting in the stands or up against the fence) TOUCHDOWN!  (Jumping again) YIKES! (as we bury our head in our hands at a bad play) RUN! (standing as the player makes his way down the field) NOOO!  (yelling to the ref/ump at a bad call) YEA!  (as we high five the other parents in winning the game)!  …. and the cheering/yelling continues… and kids wonder why us parents are so tired after a game… they don't understand how much stress we go thru in the stands or sidelines… it's truly exhausting!  And when things are going badly…it's even worse!  So that's our weekends…all year long.  I don't remember ever thinking that this would be my life 20 years ago.  But it's good for us and the kids in so many ways!
As parents of two boys… who are very athletic… and very competitive…sports have become our day-to-day life.  Some parents have chosen not to encourage sports or feel that it takes up too much time and that is their right, but I personally feel that our lives would be missing out on so much without these experiences that we are sharing with our kids.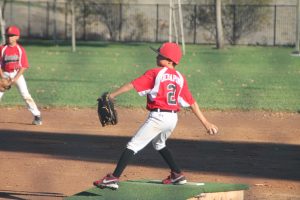 They have both played soccer and baseball since they were 5-6 years old and just recently have added flag football to the list.  They could and can play anything and play it well, but I have limited them to two sports max per season… so as of today I have over 14 seasons/8 years of baseball (most with two kids playing each season and those seasons could be Spring/Fall ball/Summer- All-Stars and now Travel teams that are year round) and 8 years of soccer with both kids playing and the last 4 years being on a competitive year around team.  So every season both are playing two sports…that's 4 games every weekend and 2 practices every week for both sports… and yes, some years that has been 2 sports in one night for a kid.  Did I mention… in each of these seasons…I have been the team mom/manager for one or both or all teams and my husband has a been a coach of at least one of the teams?
Background:
I had never seen myself as a "soccer mom" or a sports mom…especially since I was an only child of old school parents that felt that sports was just an extracurricular activity that entertained me for a few hours a couple times a week.  It was not something I was encouraged to do, or practiced outside of being dropped off at the field.  Heck, my parents never came to any of my Little League softball games… or even when I was on the high school volleyball team. So I was not prepared for the amount of time that I would spend in my life being consumed with sports on and off the field.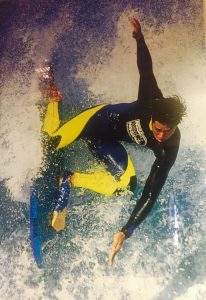 My husband, on the other hand, was from a family of two sons who played mostly baseball throughout school, a season of soccer and was introduced to surfing/bodyboarding in Jr. High when he started entering competitions.  But the difference was his parents came to all their games and cheered them on, practiced with them and went out of their way to help them get to the next level of their sport.  This was just the norm for him and his family. Although he didn't play baseball after high school, he went on to become a professional bodyboarder for Hobie that ranked 3rd in the world at one point.  So he was used to the competitive drive and dedication to a sport.
Why do it?
For developing mentally/physically/socially health kids.
Mentally: If they aren't doing sports, they are playing Xbox, on their phones/electronics or could be getting into trouble trying to fill their boredom. And having a team environment has really helped our kids learn commitment and dedication to their teammates and coaches. How their part on the team is so important to the outcome of the game.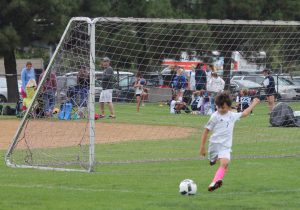 Physically: They are in amazing physical shape and that too gives them confidence at school when they are in Phys Ed and being asked to run the mile, etc.  They also have a desire to practice and their skills improve and so does their overall team.  This is great since I am NOT a good role model on working out.  At least their dad cycles/mountain bikes 2-3 x a week.
Socially: They both have great personalities…very different, but very social in their own ways.  It helps to have a group of teammates that are your friends and have your back. Because of this inherited group of like-minded kids that are focused on their grades and sports, as a parent, I feel much more comfortable with the friends they hang out with.  They have grown up together and that bond will be there as they continue onto the next school and the future.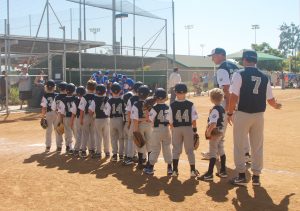 Our benefits as parents:
Being able to participate in our kids' lives is one of the most important parts of being a parent.  As I mentioned, my family did not do so as I was growing up and I honestly didn't think they thought about it one way or another.  I never thought twice about being there to watch my kids play.  Even if it was T-(orcher) ball or an organized chaos 5 year old's soccer game.  It's part of watching them grow and develop.  I chose to become the team mom/manager because that is my forte… I like organizing and this was a way for me to get to know and connect with the other parents because they all had to touch base with me. For my husband, he loves to coach the kids and be their mentor.  His calm and positive coaching demeanor really helped many shy and uncertain kids get confidence to try at the younger ages and even decide to stay with the sport.  He can really connect with the baseball boys because he's lived through it and still plays softball on an active team.  He is walking the walk and not just yelling at them from the dugout.
Don't get burned out…enjoy it or take a mental day…
At the end of the day… I wouldn't change anything. I don't mind giving up my weekends to spend with my kids.  However, as the boys have gotten older, they know that I will always be cheering them on, even if I decide to miss a game to go to the spa or sleep in.  Really… it's okay to do this.  If it's making you bitter that you always have to be there, then take a game or two off…there are always other sports parents that can help carpool your kid.  This is a healthy way to approach the full time sports parent position.
Here's to many more years watching from the sidelines and being that dedicated sports parent!!!  What a life…