I'm guilty of sometimes purchasing Groupons just for the sake of creating an event to "have to" do in the near future to force my family to get away from home.  So…since Julian is such a quaint little town and only about an hour from our house in No. Country San Diego, it was a great spot for a day trip.  I took advantage the Groupon deals for the wolf center and gold mining and off we went!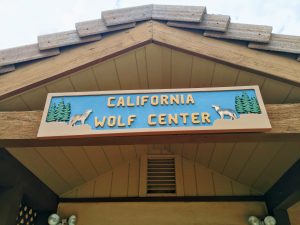 We had to make reservations for the California Wolf Center and so we caught the morning tour and it was such a great educational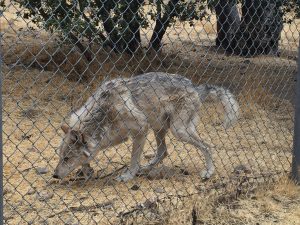 experience for the kids and us.  When you arrive the group is escorted into a room in which they do a slideshow presentation and tell about the history of the wolves and how they help take care of them and protect them.  After about a 45 min show, they take you out to the large enclosures where the rescued wolves are housed and you get up close with a pack of wolves of various sizes and see them in a safe, natural environment.  We stayed for about an hour while they talked about them.
We headed into town for lunch at the Julian Cafe and Bakery which is a very homey cafe in the middle of town with a variety of food to satisfy all.  The servings are very generous and the food is tasty.  And it's a sin not to have some Julian apple pie if you've come all that way!   Yum!! Especially ala mode!  After lunch we walked around Julian and checked out the shops and at the time my sons were PokemonGo hunting (even way out there) and we even did some Geocaching along the way.  It's amazing amount entertainment that cell phone apps can bring.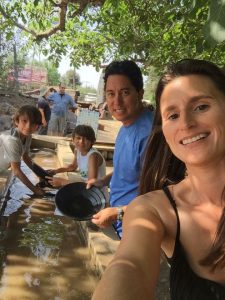 Thereafter, we headed back to the Julian Mining Company that is on the road back home.  They give you a pan and little vial to collect your "gold" in and show you how to do it.  Everyone had fun finding their treasures and then we checked out the farm animals along the perimeter.  The staff is very friendly and gives some informative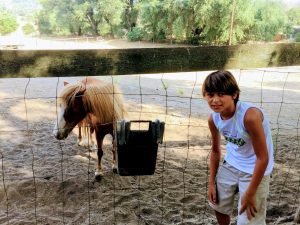 historical information about the area.  Next time we want to do the Julian Train…supposed to be cool, but not when it's hot weather.
This entire day cost us less than $75 for everything.  And we supported a good cause (the wolves) and learned a little history in the historic town of Julian.  Most of all we had a great family day!!