Rock Climbing is a great mental and physical challenge and is fun for the whole family…or at least most of the family.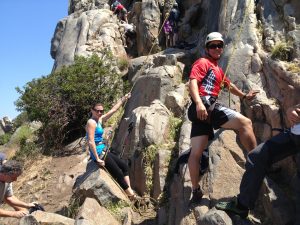 I tried it out back in college when a friend of mine said they could hook me up with the gear and off we went on this beautiful Southern California hike. Next thing I knew we were at the base of a very tall rock-face and being strapped into ropes and tight fitting shoes. They gave me some tips and up I went. I'm not saying it was easy, I guess this rock rating was on the border line hard scale, but I liked the focus of determining where to make my next hand hold or place my foot for best leverage.  I don't have a lot of upper body strength but I learned to put your weight on my legs and was able to complete the climbs.   Getting to the top is just a sense of achievement and looking down can take your breath away.  Rappelling back down to earth is an amazing feeling.  Bouncing and landing.  So much fun!!  Total adrenaline rush.
However, my husband is not so keen on the idea…he was supportive but…. here's what happened…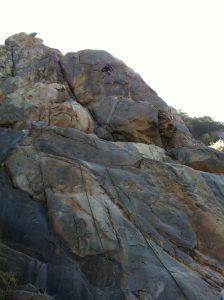 A couple years ago I thought I'd surprise my husband with an anniversary adventure since he loves the outdoors.  I was kinda hoping that he would enjoy it so he'd maybe become my climbing partner and we could do it more often.  I bought a Travelzoo special for a rock climbing experience in Mission Gorge (San Diego) and we went with a energetic German guy as a instructor and another couple.  At least I told my hubby what we were doing for the day …the other couple in our group had not told their partner what they were doing and was not exactly prepared for this adventure.  After hiking for about 30 minutes or so we came to a spot in the hike where we were going to climb.  My hubby loved the hike and the adventure of it all, but once he looked up and realized how high we were going to climb he started to have his doubts.  Since the instructor knew that I had climbed a bit before, the set me up first and showed George, my hubby, how to belay me as I climbed.  I took off and was up to the top and back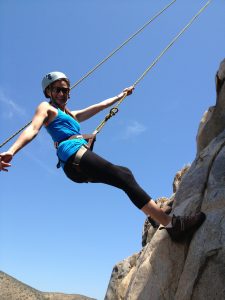 down in no time.  He had me do the next climb as well before unclipping and letting George have his turn.  Now, I know he IS a little afraid of heights, but I figured he could handle this.   He made it up for the first couple sections and then started to get frustrated and his palms started to sweat when he made the mistake of looking back and down….yikes… well, let's just say that he didn't actually make it to the top.  He did both climbs, but not the extreme sections.  When we were done we hiked back down and called it a day.  He thanked me for the adventure and ended up buying a gift certificate for the local climbing gym for my birthday because he was so impressed with my climbing skills and wants me to continue doing it… but said "Hon, I'll belay you any-day… but I'll keep my feet on the ground.  Poor baby.  At least he's supportive.
Since then I've enjoyed a few different climbs with other groups and have gone to a local climbing gym and bouldering gym for refreshers. I am hoping to start doing it again since we just had a Vertical Hold Climbing gym open up near us in San Marcos and they have women's nights.  My sons haven taken amazing climbing/bouldering camps at both Vertical Hold and  The Climbing Wall in Vista that is just bouldering… no ropes.  Often Groupon has a deal for them as well.
Here's to reaching new heights!!!!