The images are links to Amazon for items I recommend.  There is no added fee to use that link, just a benefit to me.  So thank you in advance.
Recently I had a neighbor approach me asking how in the world I'm going to shop and pack food for a camping trip that more than a couple nights and living out of a cooler.  She had no idea where to start and I came to find out that she had never camped before for more than a night. So, how do I plan a menu for a long camping trip? Well, what I bring camping is pretty much the same as we already eat at home.  It's just a matter of knowing the camping conditions you're dealing with and what foods you like/can eat.
Conditions to consider:
Am I only living out of a cooler?

If so, how long do I need to keep items cold, how many people am I feeding, and do I have ice available where I'm camping?

Do I have a refrigerator?
What do I have to cook with?  A grill?  A stove-top? A campfire?

Do I have enough propane for the trip?
Do I have a camp store nearby with the basics?
Once you know your conditions, then you need to plan the order of your menu by the longevity of your food. You do not need to starve or eat only freeze-dried food.  (ha ha…I've done that but it was for an overnight backpacking trip…let's just say it was interesting…but I didn't starve).   Fortunately for me, my family does not have any eating restrictions or dietary concerns, so anything goes, but it still takes planning.
For our recent 5-night camping trip to Yosemite, our conditions consisted of:
A Bear-box… EVERYTHING (ALL food, including packaged, canned, sealed, and anything with a scent including toiletries) having to be stored in the provided campsite bear-box.

So although our we had our pop-up trailer with a small fridge and a large and small cooler…we had to downsize to just the large cooler due to the bear box size that we were sharing with another family
Even though we had a fridge, we could only keep our water in it since we were in pop-up trailer that is equal to a tent in their eyes since it does not have hard sides.

NO Hookups at our site, but we had a generator, however, they only allowed certain hours of use at the campground which meant we couldn't use the fridge for food anyway.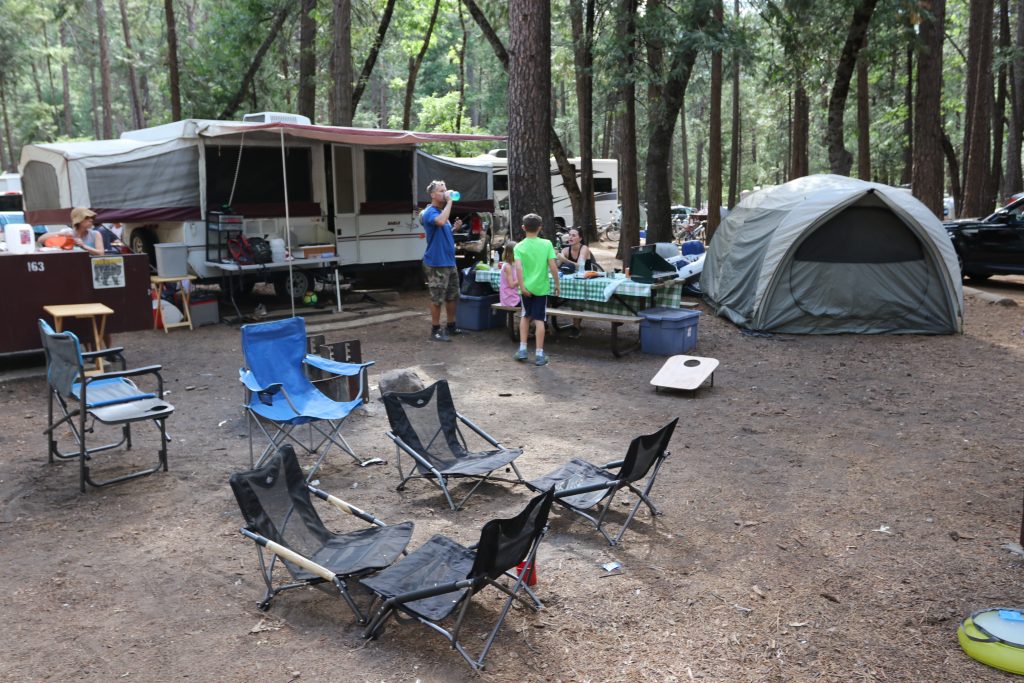 With that being said… the cooler had to be packed to effectively store our food for a longer term and limited space.
KEEPING IT COLD:
Trick # 1…. DRY ICE – long-term (or any) cooler based food storage trip… DRY ICE is amazing.
– Dry Ice is usually purchased by the pound and I have only found it locally at Smart N Final.  We needed 20lbs for our large cooler.
– Dry Ice CANNOT be touched with bare hands … only with a glove or something protective.  It is so cold that it will burn your skin.
– Line the bottom of your cooler with dry ice and then top with regular ice.  Fill your cooler and then top with regular ice.
NOTE:  Dry Ice will FREEZE anything touching it, so if you don't want that effect, be careful as to what you place next to it.  Ours lasted 4 days.
Trick #2 … Fill up emptied half-gallon juice bottles with water and freeze.  (make sure you leave a few inches unfilled at the top because when the water freezes it will expand to fill up the bottle.  These work great in the cooler and lasted a long time.
Trick #4 – For drinks that usually come in larger bottles (ie. milk, apple juice, etc)… transfer into smaller water bottles for easier storage.
Trick #5 – Check out what foods you may be able to buy in the canned form so that it will last longer.
Make sure to bring a couple plastic bins to do dishes in (one for soap and one rinse) and soap…and we have a drip dry fixture that collapses totally flat.
HOW TO PACK your cooler:
The newer thick walled coolers, such as YETI or the more reasonable NICE, do help keep it colder longer, but less space inside. If you're sharing the campsite/bear box, find out how big your campsite's box is so you can coordinate to make sure it will all fit.  And remember the non-cooler bags and toiletries that have to be put in there too.  We had plastic containers for non-cooler items.  We also had a drawer style organizer that was good to keep next to the grill/stove top with utinsils/canned food, paper plates, supplies, lighter, etc.
Meats… Have all meats frozen prior to departing and store at the bottom of the cooler.
Based on what menu have you decided on… meat that you intend to eat first or that will defrost fastest can be stored not as far down in cooler so that when you arrive at the campground… you have meat ready to cook for that first night's dinner.
Dairy products/Condiments need to be stored in the middle and veggies can float on top of cooler so they don't get freezer burn.
DINNER MENU –  I had a different theme each night.
Asian: Chicken Skewers(Pre-cooked from Costco)/Potstickers/Asparagus/ramen noodles
Mexican: Carne Asada Burritos, pre-marinated meat/beans/grilled onions/guac/shredded cheese/sour cream
Italian: Pasta Primavera w/Chix, grilled chicken/pasta sauce with sauced veggies(ie broccoli/asparagus/zucchini/onion) over choice of pasta, topped with mozz cheese
Country: Pre-marinated BBQ Ribs, mashed potatoes(butter/sour cream/milk/mozz cheese) /baked beans/canned corn
American: Hamburgers/Hot Dogs/Brats
There are lots of options based on your conditions.  Our friends were into cooking with a dutch oven and if you have a LONG time to let something cook the food really does come out pretty good…and so does the foil-wrapped fire pit recipes.  I just have a stove and grill and prefer what I'm familiar with.
REMEMBER: Once you create your menu, determine your ingredients and buy your items, you must make it clear to those coming on the trip that meals are planned and they are not permitted to just take anything out of the cooler.  So have a designated box or separate cooler that is a free-for-all so you don't end up missing something that is designated for a specific meal.  Yosemite does have to village stores with everything you'd need, but most places do not.  (I guess with 4 million visitors coming thru every year, it's worth having a fully stocked store).
Just remember that cooking is part of the trip and it's supposed to be fun… so enjoy planning your camping trip menu and bring food and snacks that make people happy… remember the SMORES!
Happy Camping!