This post has affiliate links connected to the pictures. This does not change the price to you, just supports me. 😉 
I still use digital cameras that are not WiFi linked.   So since I like instant gratification to send great shots to my social media accounts or to the person I just shot (or more likely their kid)… I have found a few helpful tools to help us have that convenience with our non-WiFi cameras. But since I was on the topic of cameras, I couldn't help giving a few other camera related gift ideas (some are hints to my husband…wink wink).
For the non-WiFi camera users:
This is my favorite SD Card ever.  It has its own WiFi connection that will connect to your smartphone via the app and you can instantaneously have your pictures from your camera on your phone.


This gadget is good if you don't want to worry about connecting to WiFi at all…This is just a connector for your phone that you slide your SD or Micro SD card into and Voila… grab the shots you want.
The following items are just other camera related gift ideas that I like or have or recommend.
For us that have competitive kids, dads/moms, and coaches who want to review the video of their games… The Hawk Eye Video Pole allows you to video from 16′ feet in the area.  Great perspective and all with the use of your phone.  The micro sd card in the video camera can be used in the SD card adapter for your phone too.  I like editing it with just the highlights of the game (and/or of my kids' great plays).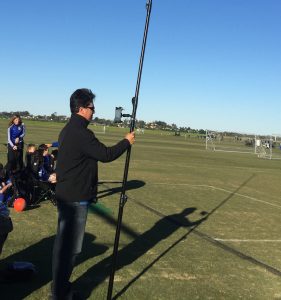 Fashionable Camera Bags… I hate my hubby's bulking cross chest bag…or heaven forbid…his fanny pack style…this is much more my choice.
A more comfortable camera strap for around your neck…and more stylish too.
A must-have case for all those stinking little SD cards with all your great shots…
And if you're looking for a new camera… I still tend to like my Canon and I love my zoom lens.
Another set of great lens to have for those getting more into photography or have a need for wide-angle shots (like my husband that needs it for construction pictures) and the other very fast and good for low light is this set.  This is on my Christmas list.
So these are a just a few ideas, especially the first two for those who are looking for a quick way to obtain your photos from your non-wi-fi camera to your phone.  The others are just great gifts for those that use a camera or want to.  Happy shooting those great shots!