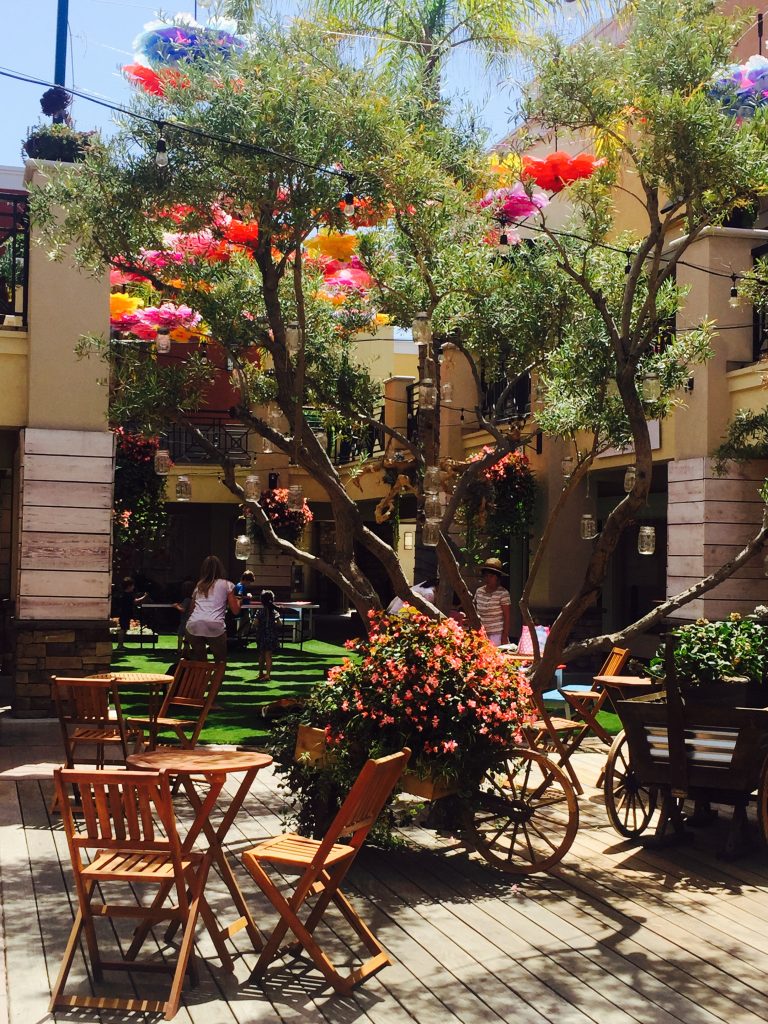 In visiting the Flower Hill Promenade in Del Mar this week, I actually took the time to walk around the 2-level shopping center and was so pleasantly surprised to see how beautiful they had decorated it and how social and kid-friendly they had made it.  There are some great boutiques and services for the grown-ups, but such great attractions for the kids to make your "shared" shopping experience an enjoyable one.
Here are the 10 attractions that I think make Flower Hill Promenade so special and kid friendly:
 Art: So many cool artfully created colorful play structures that are placed throughout that are great for small kids. There is also a small playground and small aviary with parakeets right in front of Geppetto's conveniently below Starbucks next to Whole Foods.
Open spaces: The groupings of unique tables and chairs in creatively placed nooks and crannies that encourage a time together with your kids or socializing with a friend either over a Starbucks, take out lunch or yogurt…there is also a turfed area in the lower level that includes a ping pong table and picnic table.
Decorations:  3D butterflies on the walls and flowers dangling down are everywhere that support the flower/spring theme that is consistent throughout the promenade and are so fun to look at.
Restaurants:  There are so many, but Flower Child and Burger Lounge have food that the kiddos enjoy and and have outdoor seating areas. Chiptole, Milton's and El Cucina are also great food places to tryout.
Clothing stores: including Sweet Pea Children's Shop and Mini Market by Van de Vort to get your little one stylish. Also great for baby shower gifts and special occasions outfits. (Both on lower level)
Activity: A Colorful Universe is such a fun place to paint ceramics and let their/your inner artist bloom into life.  No reservations needed. Parties available.
Dessert shops: Nothing Bundt cakes is the most amazing sweet treat around and Yogurtland is perfect for an afternoon treat that is healthy and good for the entire family.
Hair Salon: Pigtails and Crewcuts – such a fun place for kids to get their haircut with fun seats and a special treatment. The offer parties and unique gifts.
Toy Store: Gepetto's Toys of course goes without saying!  Fun Fun Fun!  Best toy store around!
Kid Yoga: If I were a Bird Yoga studio…specializes in Kids Yoga, Baby & Me Yoga, Toddler Yoga, Family Yoga, Teen and Tween Yoga, Prenatal Yoga, Yoga for Special Needs, Private lessons,  Kids Yoga Teacher Trainings in San Diego, Kids Yoga Birthday Parties & Events, Yoga Workshops and much more.
Flower Hill Promenade is not only kid-friendly but suitable for all for a great afternoon out or a destination for dining.
Flower Hill is located just East off the I-5 in Del Mar.  2720 Via De La Valle, Del Mar, CA 92014.  Usually open from 10am to 6pm
It is very busy during lunch on weekdays so try to get there before the crowd arrives… especially since parking can be a challenge.
Click HERE to check out the Flower Hill Promenade website for upcoming events too.  Have fun shopping…even with the kiddos!!!