Ribbon Zucchini Tortellini
---
This is a new recipe for me to try and I liked it!  Of course I altered it to my tasting.  So now it's mine! Thanks to the influence of Cooking Light.
Ingredients:
Cheese tortellini (like Buttoni)
Zucchini sliced into ribbons (with a vegetable or cheese slicer)
2 garlic cloves minced
Olive Oil
(1 Tbsp) Lemon juice and (1 tsp) zest
Kosher Salt
Pepper
Basil leaves (optional – but a good touch and taste)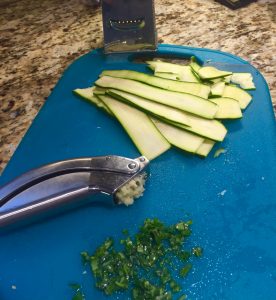 Cook tortellini as package directs without the salt. Drain and let cool (approx. 10 mins)
Ribbon the zucchini (I used the side of a 4-sided cheese slicer)
Heat medium skillet with about a 1 tablespoon of Olive Oil and saute minced garlic for about 30 seconds and then add in ribboned zucchini and remove from heat after about 30 seconds and finish sauteing until zucchini is cooked.
Mix zucchini/garlic with drained tortellini and add approx. 1 tablespoon of lemon juice and a teaspoon of zest, pinch or two of salt and a pinch of pepper (Lemon, salt and pepper to taste).  Top dish with diced fresh basil leaves.
Serve up.  I used as a side dish to my grilled steak.  Family loved it
Enjoy!