Big Bear Lake is a family favorite for us. The adventures are unlimited for our active family all year around.  We try to go at least twice a year since it's only a couple hour drive from home and there is so much to do.
FAVORITE TRADITIONS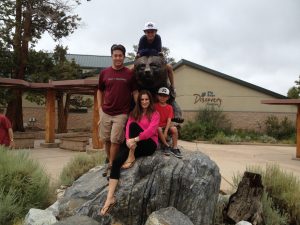 Big Bear Discovery Center – Every trip we make up there we take a picture in front of the big "bear" statue in front of the Discovery Center.  Just gotta do it.  But the Discover Center is great.  It's grand central station to finding out what's happening around the area, hiking maps, activity calendar, an animal displace museum and special attractions, cafe and just a nice place to take a break.  (The Visitor Center in the middle of town is a quick stop for maps and coupons, but the Discovery center is on the other side of the lake and worth the trip).
Big Bear Village movie Theater – it's in the center of town off Pine Knot.. is such a cute little theater.  It's not your typical ginormous mega plex that we are all used to…it's a quaint little theater that usually only shows one movie at a time. Usually discounts are available on their website.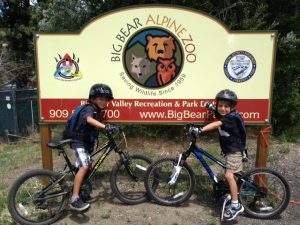 Big Bear Alpine Zoo – Such a cool place.  All are rescued animals that have a story behind them.  Love Yogi the 3 legged bear and his story of stealing honey and the wolf pack is amazing.  Birds of prey, bears, mountain lions, and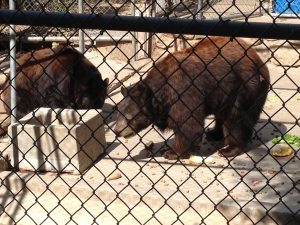 the local trouble makers…the raccoons.  The animal show and staff zoo tour are must dos while you are there.  They introduce a variety of the animals and tell their stories.  The kids remember those stories and look forward to visiting them the next time we're in town.
Geocaching – Geo what?  That's another blog post of mine to come, but in short…there are treasures hidden around the world by people just like us that are mapped onto this app for us all to find.  The website has lots of info and if you download the basic app that is free you can find plenty…but I felt it was TOTALLY worth spending a one time $9.99 for the better version since it gives you more tips and help on finding the caches.  There is map that will lead you to the treasure and then tips on what to look for.  They are hidden everywhere.. in trees, under benches, under piles of rocks, some are magnetic, some are cans, boxes, pill bottles, you name it.  They are all sizes and shapes and contain sometimes only a log of those that found it, others have all kinds of goodies in them… the rule is that you only take something if you have something to put in.  If all else fails…coins/money works fine.  Most of the time its cheesy little kiddy things which if fun, sometimes there are key-chains and special stuff in there.  The trick is not to let moguls see you find the cache.  We have logged 99 finds to date and many of them were in Big Bear.  The best one up there was a trail we took that was about 5 miles up the mountain and someone hide caches every 1/2-1 mile along the way so the kids were okay with the hike since we would take these geocaching breaks along the way.  Super fun.  A great family activity.
Hit the slopes at the Big Bear Mountain Resort…. During the winter we love to snowboard and my older son is really good at it these days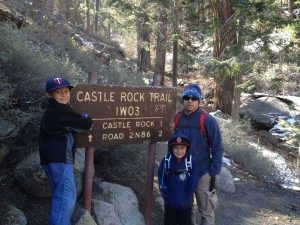 .  Snow Summit and Bear Mountain are now owned by they same company so we try to hit both mountains if possible.  But during the Summer we like to take the lifts up to the top and hike or mountain bike down, unless we're lazy or have someone that can't make it down the hill, then we'll go to the top and have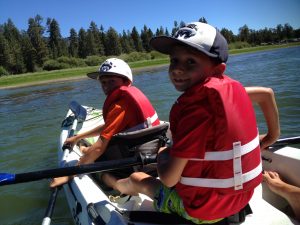 lunch and then take the lift back down.
Big Bear Valley Historical Museum – Really cute little museum of the history of Big Bear that is very fascinating.  They have all kinds of things to look at including an original gold miner's cabin, a tee pee, the tools they used, and sometimes they have live music along with docents that are placed throughout the set up that are dressed in the time period attire and telling the stories.  In the back you can even gold mine under this amazing tree and watch the goldsmith make stuff.  The staff are all very entertaining and proud to share their knowledge.  It's located right behind the airport.  Great place to try sarsaparilla (the old time root beer).
There is so much to do up there, especially during the summer. Lots of hiking trails for all levels (a short one we like is Castle Rock).  We've rented kayaks, taken a boat cruise, there is a pirate ship cruise, fishing and more.  We just booked our condo for a week in mid- August at our Worldmark Big Bear Condo and am looking forward to another week of adventures.  Hope you found this helpful…. Go Big Bear!