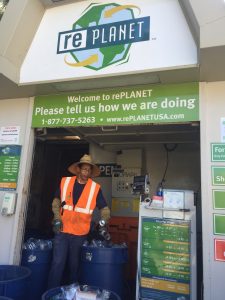 Recycling is a task that I have always felt I just have to do…yes, I like getting the money back considering I did pay the CRV, but it is a task and I like to get the most out of my efforts.  So today I took a load down the te Re-Planet near my house that has the machines, but it also has the nicest guy that works there that always gives me tips to get the most for what I brought… So here it goes…This applies for California.
TIPS from Gary:
Use the machine for only the plastic bottles…like the light weight water bottles and have them weigh or count the rest.
Aluminum cans are about the same in the machine or having them weighed.
Definitely have them weigh Gatorade bottles and the like, they weigh more than the thin water bottles.
Remove ALL the lids from all the bottles and give them in a bag to be weighed at the end.
The little probiotic bottles are recyclable (see the side of the bottle to be sure) and are worth the same as the other bottles, but he recommended to have them counted.
100% juice bottles are not recyclable for $.
My errand today earned me about $32… not bad for a few bags.  I only go every three or four months but makes it worth my while if I'm going to do it